Pay-per-Click Marketing
PPC, or pay-per-click advertising, is one of the best ways to target your most qualified audience. It allows you to reach them where they're already looking, and gain a leg up against competitors.
Kipzer can deliver a custom PPC campaign to help you increase both conversions and revenue for your company with our PPC management services.
Check out our pay-per-click management pricing table below to see what's included in each of our PPC service plans and to learn more about how paid ads can drive results for your business.
Our PPC are here to fast track your businesses success. Our team of PPC experts will help you gain dominance in your industry vertical with better Pay Per Click strategy, implementation and optimisations.
We take a data-first approach and match this with many years of experience to get you the best results possible.
---
Will your company be our next happy Pay Per Click client ?
Leading PPC Experts
Hand-picked from the most
talented digital advertisers in the
India, our PPC services manage
over Google Ads every month.


Grow Your Business
Turn your business into a revenue
generating machine. We can
eliminate wasted advertising spend
and focus on your strategic
business goals.
Exceptional Results
We focus on your bottom line. We
won't baffle you with clicks and
impressions, we report on what
actually matters and makes you money.
---
PPC MARKETING PROCESS
The right PPC strategy from the right PPC agency delivers the purest return on investment, with clear, tangible metrics. We use a tried and tested process to engage and deliver your needs, reacting rapidly to our insight from the data to maximise your ROI.
Auditing & Onboarding
We scrub up your data to drive relevant customers to your content to either educate, engage or convert. These will form the basis of a strategy that delves deep into your customer personas to uncover their needs, and how fulfilling them will deliver your KPIs.
It's instrumental we figure out precisely what your customers want, and the pathway they will take to fulfil it. We'll use extensive persona analysis to create compelling and engaging user journeys, speaking to them at each stage of the decision tree to nurture them throughout the process.
We can also discover some quick wins by identifying what is working and what isn't from an audit of your current strategy, alongside a competitor analysis. How your rivals operate is crucial to your success, with sophisticated reverse engineering tools key to unlocking their gains for your benefit. The final stage will be deciding on the right keywords and weeding out the negative ones, combining them with the optimum traffic sources to focus on high user intent and cost-efficiency.
---
Implementation & Launch
Once the strategy is agreed upon, we'll get it ready for launch. Crafting compelling ad copy and creative banners with a strong call to action is crucial to success, and we'll ensure they are laser-targeted towards your personas. We can also build in software scripts that maximise real-time optimisation, reacting as you sleep to your customer's behaviour. You'll never need to wait to benefit from what the data is telling us.
Our implementation experience is extensive, whether developing your existing campaigns or building new accounts on new networks. And whilst we manage the accounts on your behalf, you will always own them and have a direct relationship with each platform.
---
Optimisation & Attribution
Once we begin the implementation, we'll ensure the strategy nimbly reacts to any shifts in your customers' behaviour. Their journey is never linear, taking in multiple devices and several touchpoints, often unique from user to user. Our understanding of the attribution process ensures you can reach them however they choose to engage with you.
Data always leads the way, and we'll continuously adapt our approach, so it's agile enough to react to maximise your returns. Our PPC revolves around a proactive strategy coupled with a reactive and responsive approach, rapidly jumping on trends and leveraging real-time insight to optimise performance. We undertake vigorous testing, so we're never reliant on assumptions or hunches; our results follow the direction the numbers tell us.
As the campaign progresses, the level of insight will increase, enabling us to discover more about your audience and continue to get the most from every pound you spend. We'll review the attribution of sales and goals to develop a clear understanding of what each channel contributes from introducers to sales-clenchers, helping know where to allocate your marketing spend for sustained growth.
---
Reporting & Realignment
As we work, we'll regularly update you with weekly and monthly reports, relaying the information in easy-to-understand insight that demonstrates the strategy's impact. We'll coordinate how we do this with you, so the reporting delivers the information you need in the manner you'd expect.
These insights consistently improve the strategy, ensuring your marketing focuses on what your audience wants. We rapidly utilise the results from our experimentation and analysis, allowing you to stay ahead of the curve. Alongside this constant tweaking, we'll organise quarterly strategy reviews to discuss the findings in extensive detail. This also gives us both the opportunity to explore the broader business goals as and when they change.
---
---
ECOMMERCE PPC SERVICES
If you sell products online, PPC is an essential part of your marketing mix.
We're experienced in creating high-converting PPC campaigns that generate all round increases in online transactions, revenue and return on ad spend (ROAS). We'll help optimise your Google shopping feed and increase your overall basket value by targetting the right products at the key moment of search.
---
MEDICAL PPC SERVICES
We've bags of experience creating and managing PPC campaigns for medical clients. Health-related PPC campaigns come with a lot of regulation from Google and Bing, and our dedicated experts can create ads and campaigns that get approved first time. See how we generated a significant return for a top rated Pharmacy.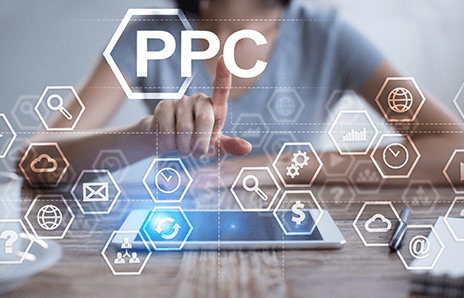 ---
---
Do you want to know what is best for your business?
Just ask us today, we will take the time to understand your brand and can work out how to maximise your PPC efforts and help to cut wasted spend. You can do this simply by booking in for your free PPC review! Yes, it is that easy to get better results!
Are you unsure of where to start?
The simple takeaway is to map your exposure points to where your brand ambassadors and highest value customers are. If you are unsure of where to start, we will help guide you. Simply speak to our team of PPC Experts who are on hand and will help you!
Are your clients looking for the services and products you sell?
If so search and interest-based marketing should probably be a heavy focus area for your brand. Search marketing is crucial if you want to grow your brand. being found at the specific time someone is looking for what you sell will be the difference between making the sale or not. Don't miss out on sales, contact us today and we will show you how many people are looking for what you sell!
Do your prospective clients not even know that your product or service exists? Do they not know your products are the answer to all of their pain points?
If so, interruption-based campaigns could focus heavily on your new client strategy. Social campaigns might feature heavily if your prospective clients do not know your products. Make sure you delight your audience into buying from you! Our PPC Experts can help, simply ask us today for free advice!
---
Do you have any questions? Would you like a callback? If so, contact us here today and book a free discussion with one of our experts!