What is Mobile App Development?
We develop and deploy custom mobile apps, providing solutions for small, midsize and large companies from different industries. We have created dozens of high profile applications for iOS, Android and Windows Phone during the course of the last years.
Our mobile application development process comprises the complete software development life-cycle, from business requirements analysis, to application definition and design, testing, implementation and support.
So finally you have begun your quest of finding the best Mobile Application Development Company for your Startup or business process.
So how do you define the best? Someone who understands you, the one which can work with a given time and budget and yet deliver value, right?
We believe that every app idea needs a technology partner who not just understands coding and development but also understands the underlying restrictions that almost every Startup has.
All startups have a limited time, budget and yet need a quality benchmarked app. We take that challenge.
Being an app development agency, our experience with startups has conditioned us in a way which helps us build successful product strategies along with successful mobile apps.
Mobile App Development Service Like Never Before
We promise confidentiality
We are a renowned application development agency and we understand that you might be skeptical about sharing your app idea with us,but a lot of startups as well as huge enterprises trust us and so can you. If you have doubts, we are more than happy to sign a non-disclosure agreement before we go ahead in talking business.
We build; you own!
All your assets and codes belong to just you. You are just hiring Kipzer for your project, you still own all the rights to your application. So, automatically you are the owner of all mobile solutions like API documentation, mobile app designs, cloud architecture and the code. All assets are absolutely free!
Always striving towards better
We have developed apps for multiple clients across India. And we can proudly say, we are not afraid of taking on a challenge. We would love to challenge our limits. So if you have an out of box idea and having a hard time deciding who can make it work for you, then you have come to the right place.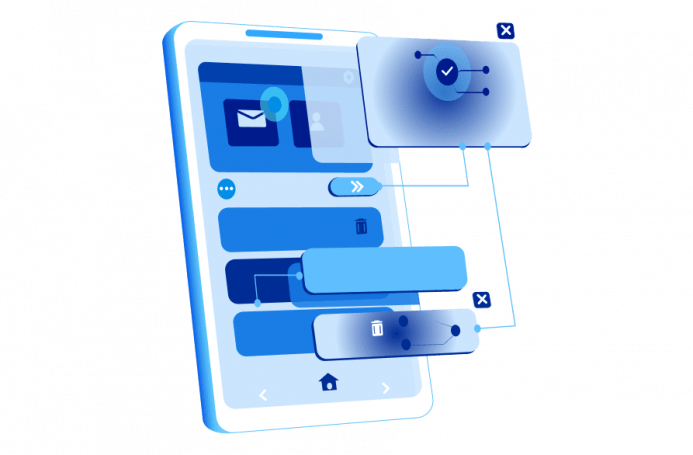 MOBILE APP DEVELOPMENT SERVICES
Mobile development services for integrated software systems
Augmented reality for business-driven mobile development
Integration with existing software and hardware
Creation of complex solutions from scratch
Architectural solutions for mobile applications
APIs and 3rd-party integrations
So how do we create a successful Mobile App strategy for a Startup?
Well, first we need to make sure that we have defined the USP of the app very clearly. We define the one big problem that the Mobile App is going to solve.
Once that is clear, then based on the time and the budge that the Startup has planned for the product, we discuss the functionalities that can be accommodated.
We discuss what is absolutely necessary and what can be compromised for a quick launch. This makes sure that the core idea of the product is absolutely there in the App and it still gets built up in within a stipulated cost and time.
How do we actually build Mobile Apps?
As we are an experienced app development company we have a dedicated team of experts that work on Native Android, iOS, and Hybrid platforms.
All these professionals are hired after 6 rounds of the interview where they are judged on their technical skills as well as business understanding. They are even given a special induction for our "Startup Agile methodologies".
We ensure that everyone from the project manager, Graphic designers to app developers understand the kind of gap we are trying to bridge when we say "We are startup focussed".
Technologies that we use for launching disruptive startups.
We are really strong on the business consultancy to startups and these startups love when we discuss the kind of technology we use for their products.
We use Technology which is cutting-edge, future-proof and real-time.
Android App Development
Our team has extensive development experience in Android App development. We go well beyond what you see on the screen of your Android device.
Our team has specialists in the field of XMPP chat servers, RTSP (Streaming Protocols), LDAP, Microsoft Active Sync, Asterisk, VOIP, OpenSips, Wowza etc.
iOS App Development
As a top-notch ios app development it's really important for us to keep the iOS design standards in mind while designing an iOS application. We have a special place in our heart for iOS applications ( Read Apple ) and it can be clearly seen in our products.
We tend to use native designs and native controllers which not only keep turnaround time faster but also make the App robust and future-proof.
CREATE POWERFUL APPLICATIONS WITH KIPZER
Lucrative businesses are businesses with mobile apps. The majority of website searches go via mobile devices. Get your services online and take your brand to the next level. With mobile solutions, you'll confidently increase the number of customers and partners.
---
Customers that have round-the-clock connectivity with you, trust your application more. As a reverse effect, the application itself helps to:
Boost Brand Reputation

Effectively engage customers

Increase business visibility

Increase trust in your services

Have analytic data in your hands

Amplify your brand
WE'LL HELP YOUR BUSINESS GROW
Kipzer creates cost-effective and original software solutions for startups. Our cooperation models allow building software at reasonable prices that are previously negotiated and discussed with the client. You will receive:
App development team of certified engineers
Professional and scalable Android or iOS app
Custom software solution that fits your business goals
Mobile development that meets your budget
Discovery Stage for learning end-users, market, and improving idea
MOBILE AND ANDROID TV APPLICATIONS:
Are built using the latest techniques for IoS, Android, Android TV and React Native
Focus on solutions that fit and benefit your business
Are applications your users will love while achieving a fast time to market at a competitive cost.
Technologies: ReactJS, NodeJS, React Native, Web API, C#, MySql, Bootstrap CSS, Redis, Kotlin, push notification; in-app purchase; XMPP; VoIP; location based (Google & Apple Maps); Social Network SDK (Facebook/ Twitter/ LinkedIn/ Instagram); integration with payment gateways.
WE BUILD AWESOME MOBILE APPS
iOS
DEVELOPMENT
Get engaging iPhone app development for your business and expand your programming skills. We understand what the best fit for your project is. Craft the strategic business app in less time and within your budget.
Read More
ANDROID
DEVELOPMENT
Having a dominant force in web and mobile app provides additional revenue. Our top mobile app developers meets your project needs with delivering full service web apps. Get highly functional and irresistible features that suit your websites.
Read More
NATIVE APPLICATION
DEVELOPMENT
We build an amazing native mobile app which will fulfill your business needs. Kipzer has helped organizations to achieve a significant competitive advantage by providing affordable solutions. We have created and deployed hundreds of native mobile apps for B2B as well as B2C organizations across various sectors.
Read More
Mobile App Development FAQ
What platform should we target to launch the app for our requirement, Android or iOS ?
The choice of platform depends on the following five factors:
➤ Your target audience
➤ Project timeline
➤ Revenue goals
➤ Desired app features
➤ App maintenance budget
If your budget is not restricted, we recommend you to launch the application in Android as well as iOS.
What types of industries have you served in the past ?
➤ We are into providing web and mobile app solutions for all major industries. We have worked with 200+ customers worldwide including startups, SMEs, and Fortune 500 companies.
➤ Some of our previous and current customers include companies like Siemens, Intel, Havells, TGI Sports, and Rapyuta Robotics. Check our portfolio to know more.
I want to enhance my existing mobile app ? Can you get it done ?
➤ At Cumulations, we help you augment your business operations with the right app solution. Whether it is developing a new app from the scratch or simply improving the functionality of your existing app, we have got you covered.
➤ We offer tailored app development packages. You can choose all or any one of our development services as per your specific requirements.