How it works
---
Step 1: Pick the solutions you need
Research, pick & buy the services that suit your needs.
Step 2: Give us your guidelines
Give us your guidelines during our strategic kickoff meeting.
Step 3: Sit back & relax
Do what you love, We'll get you the best internet marketing results.
An All-in-one On-page SEO Optimization Service
We've mastered the art of global and local OnPage SEO optimization after doing it for a decade on hundreds of websites. We use a thorough step by step process to make every page as good as it can be.
To start; we'll do a complete on-page analysis of your webpage, using our on-page SEO checker.
Our SEO experts then get busy understanding your page's intent, researching the best keywords to target and optimize for.
Once all the on-page auditing and analysis is done; our team of SEO experts start optimizing every factor and element of the page to make it perfectly optimized for search engines and users.We'll fully SEO optimize things like URL structure, meta tags/ descriptions, title tags, headings, images and all internal links to name few.
Once everything is finalized, we can either make the changes live (on WordPress sites) or provide it in a report. You'll also get a full report of all the changes, and current page ranking so you can see a clear before and after picture of the effect in the coming weeks.
---
257% INCREASE IN DATABASE GROWTH THROUGH LEAD GENERATION
Kipzer Complete had a website that didn't generate any leads and was "embarrassing" for a software development company. However, after bringing on Campaign Creators to develop their lead generation campaign, they experienced a 257% increase in database growth.
We typically work with small marketing teams of one to five people, where at least one person owns the marketing relationship with Campaign Creators. We see ourselves as an extension of your team, ready to work with you and support you in any way we can to meet your goals.
---
Making Sure Every Page Ranks As Well As It Can
E-Commerce SEO
eCommerce SEO is the art of ensuring that the items you sell online are more visible. Seek Social are eCommerce SEO specialists, and we can make sure your various store pages rank well on search engines, that all of your products are correctly categorised, and easy to find and buy both on your store and on search engines. For more details, click.
Global SEO
This is optimisation work carried out with the attention of attracting attention and traffic in general to your site, and when most people say 'SEO', this is what they mean. For further details on how our team of SEO experts can help develop guide and implement all aspects of your SEO strategy and get you climbing up the rankings – click here!
Local SEO
If your business is looking to market itself in a specific geographical area, then you need Local SEO. The team at Seek Social are experts in this area, and the people you want to guide and implement your Local SEO strategy. For more details on how we can help you be the biggest fish in your local pond, click here!
---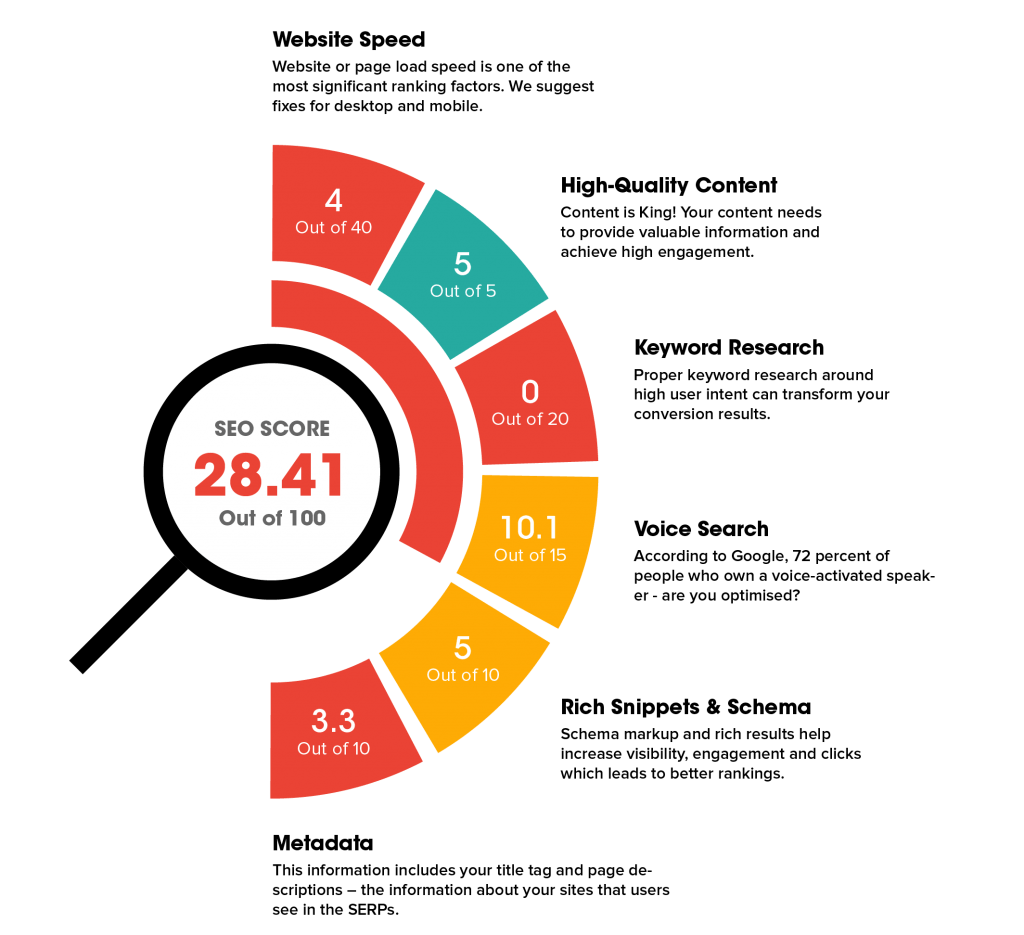 Technical SEO Audit
Our technical SEO audit gives you a beneath-the-surface look at your website and allows us to give you feedback on where you need to improve – and where we can help. We'll pinpoint the exact weaknesses with your speed and technical framework and deliver an effective strategy to ensure your performance reaches the heights you deserve.
Our experts will discuss your business objectives and briefly evaluate your digital presence to scope out your roadmap to success.
One of our relevant experts will then call you to walk you through your proposal, clarify our thinking and forecast your business growth potential.
We are experts in creating and optimising content that's not only relevant but also engaging to encourage search engines like Google or Bing to show your pages and get users to click through to your website. Get discovered by customers who are already searching for your product or service with our SEO strategies. Once your target audience has clicked through your website and engaged with you content they will be converted to purchasing customers. 
---
---
Why You Need An On Page SEO Specialist
Seo Title Composition
You know those big blue links on Google's results pages? This is what's known as an 'SEO Title', and it's something that you can edit – given the necessary permissions and access. The words you use here have a direct impact on your SEO score – but you need to be careful. They can be too short, they can be too long, and there are certain words and ways of speaking that work better than others.
Our on-page SEO specialists have the skill and experience needed to use the limited space here to best effect – creating strong SEO titles that will give your page's SEO score a big boost right out of the gate!
Meta Information Composition
Underneath that blue link is a couple of lines of text describing the page in more detail. This is your meta description, and again, this directly impacts your SEO score. As with SEO titles, they do have an optimum length, and using certain words will elevate some metas above others.
A Seek Social on page SEO specialist is well versed in the art of getting all the info needed into this description while also meeting the optimum length, and using other elements and techniques (such as calls-to-action) to entice people to click your link.
URL/Slug Creation
This is something that can only really be done with new pages, but much like a meta description, the URL of your page has a contribution to make to its SEO score… And once again, with a Seek Social on page SEO specialist handling the work you can be sure that it makes that contribution – with the right words used in a URL that's just the right length.
ALT Text Composition
Accessibility is another thing that Google takes into account when placing a page in its rankings, and so pages that are missing 'alt texts' (texts used by programs like screen readers in place of images) don't rank as highly as they otherwise might. Again though, you can trust your Seek Social on-page SEO specialist to compose an alt text that is both accurate to any images present on your page, and brings a further SEO boost!
Text Optimization
Often this is the core element of your digital marketing effort – but as Seek Social know – that only makes it more important that it be well optimised! You can trust your Seek Social on page SEO specialist to make small amends to your text, making sure that a page's SEO keyword is mentioned just the right amount of times (because it IS possible to over-optimise here), but without altering your core message. What's more, we'll also look to use it in a number of crucial places within your text, to earn you every last bit of SEO score available!
Adding Internal+External Link
Put simply, pages that are missing links to other pages are passing up free SEO score that can help their digital marketing efforts. Seek Social's on page SEO specialists are well aware of this – and so wherever needed we'll add such links to your page to make sure you don't miss out!
---