Top Virtual Reality
Development Company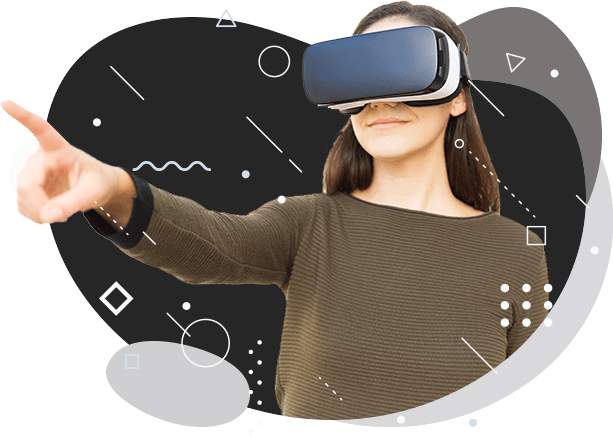 Top Virtual Reality (VR) App Development Company
Are you looking for professional virtual reality app development companies in India, Kipzer is top virtual reality company with a wide team of innovators who blend in the field of both virtual reality (VR) and artificial intelligence (AI). Kipzer is the leading VR app development company in India that offers extensive service to all the platforms. With extensive expertise in blending high potential verticals, Kipzer efficiently creates the unique virtual reality technology that brings the right solution for your modern business. With tremendous surge in the Virtual Reality (VR) field for past couple of years, many businesses have switched to the VR technology to represent their business. Selecting Kipzer for virtual reality app development is your unique choice as it adds great benefit to your business world. Virtual Reality refers to specific reality emulation mimics of the real world.
---
Kipzer as a Virtual Reality Company in your Services
Kipzer is a team of experienced designers and developers fully committed to creating the virtual as well as the intelligent identity for the business and service of their clients. The team of experts in virtual reality app development centre is highly capable of developing VR applications with the modern framework that is efficiently built for the major devices that include Samsung VR, Google Cardboard, Oculus Rift VR and many others. VR app development is highly suitable for more number of business functions like marketing, product demos, sales presentations and more. With extensive possibilities for applications of the Virtual Reality become limitless, Kipzerc as virtual reality company in India provides advance advanced 3D digital imaging, visualization, 3D modeling and complete virtual reality services that efficiently allows to extensively build the multi-platform VR applications.
---
How Virtual Reality Can Help Your Business
VR App in Education
The education industry continues to evolve with Virtual Reality. It is playing a vital role in improving the level of education. Hence, with time, it is embraced by students and teacher. This is an immersive storytelling technology focus on training teachers and other instructors too. VR services in education help in gathering feedback and status of the students engaged with VR headsets.
VR App for Real Estate
This sector is utilizing the Virtual Reality technology and its services in a different way. Virtual reality companies develop problem-solving VR solution that can educate employees in a more engaging way. It is an intuitive way to explore designs through VR helping clients to understand better with accurate working information.
VR App for Training
Virtual Reality is evolved mainly for Training purpose which is considered as one of the most significant utilization of VR. Many VR companies introduced Virtual Reality training app to prepare employees for a different purpose. Immersing training trains employees that eliminates the need for setups to train the employees. Apart from that, it provides a lifelike environment to prepare them for the events which are complex.
VR App for E-commerce
This industry has benefited maximum from the VR technology. Virtual stores provide customers with a virtual experience that can take the tour of the virtual world any time. Brand/companies in the industry are using AR technology for engaging customers to their store. This is a new way to immerse users deeper into the e-commerce shopping experience and make them learn more about the products.
360 Virtual Tour
360 virtual tours is taking its business prospect to new heights. It offers an immersive way to create an emotional connection with your customers. Previewing any sites online like with 360 virtual tours is a new way of content marketing that is adding an important element to business.
VR Game Development
Virtual Reality is one of the most advanced innovations in the current world. VR game development has revolutionized the gaming industry. We as a dedicated game development company employ the in-depth knowledge of the technologies and the prior experience for the latest VR game trends. Our focus is to create appealing VR games with high-quality graphics and animations.
---
Our Offerings for Various Industries
The ever-growing demand for VR mobile applications has developed the potential scope for businesses. Virtual Reality is offering unique opportunities for startups and enterprises to develop a strong foundation in various verticals. Over the years, the impact of VR potential is transforming the business decision-making process. We carry hand on experience to develop tailored VR solutions for clients across versatile domains. We help our client overcome several aspects related to businesses with VR app development services.
Virtual 360 Tours
Virtual Reality Training
Virtual 3D Showroom
VR Games
3D Modeling Services
VR Walkthrough
Virtual Events Solution
Virtual Shopping Experience
Interactive 3D Content
Virtual Reality Travel Experiences
Virtual Reality Technologies in Business
1)Effective Technology
Virtual Reality has definitely been a turning point in the arena of marketing industry. An innovative platform has been created with the Virtual Reality apps.
2)More Engaging and Memorable
Virtual Reality utilizes simulate environment for a better user experience. Imagine the fantasy and excitement when you are a part of such an amazing experience
3)One Time Investment
With one time investment you will be able to enjoy better and more features with the aid of virtual reality app. A more interactive learning about the product or services.
4)Cost Effective Marketing Strategy
With the Virtual Reality app you will definitely be able to reach to a bigger customer base. It ensures cost-effectiveness of your marketing strategies as well.
---
Science fiction movies have already made us familiar with the concept of Virtual Reality (VR)
It provides a 360o immersive environment to walkthrough your imagination by wearing a VR headset.
Being a full-fledged immersive studio, our goal is to provide users a real entertainment by making innovative & enjoyable, robust & viable VR based solutions. Our expertise doesn't only involve the VR games but also the enterprise use cases where we cover most realistic scenarios in a very safe and controlled manner.
---
Our Experience in VR
Defence
Weapon training module along with showcasing defence technical capabilities

Healthcare
Interactive learning module of medical precautions and procedures
Manufacturing
Interactive training module guide to assemble a product

VR Game
First Person Shooting Game available on HTC Vive and Oculus Store

Sports Training
Live sports auditorium to get real feel of ongoing matches based on the choice of player

Education
Live classes to learn and Interact with your teacher